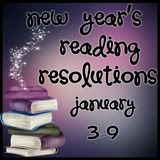 Hey! Thanks for hopping over to my blog.
Candace
has kindly organized this blog hop about New Year's resolutions. One of my resolutions is to read more this year and to get me started I have created a short reading list. The winner will chose one of the books from my list.
The Rules:
Well, we're all very busy hopping from blog to blog so only one rule:
follow with Google Friend Connect
(see the button up there on the left).
One extra entries can be earned by tweeting about the giveaway (include @EVA_n_essence )
Please fill out the form to enter - comments are appreciated but DO NOT count as entries.
Once you have finish here please join in the fun and hop along to the other participating blogs.